In Memory
Harry Valentine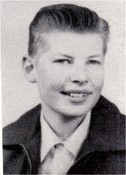 Our classmate Harry Holger "Skip" Valentine Jr. passed away on April 8, 2002, location unknown. Harry was born in Sacramento on September 16, 1941 to Harry H. Sr. and Agnes O. Martinsen Valentine. The Valentine family lived in Palo Alto since the early 1950's.
In 1963, Harry was an apprentice at the Martinson Machine Shop in Palo Alto. In 1993, Harry was still living in Palo Alto.
He married Mary E. (last name unknown), whose name is on their joint brass grave stone plaque. Mary was born in 1951 and was alive in 2015. His Cubberley 59 yearbook entry says he "enjoys working around ships", and the brass grave stone plaque shows an anchor. Apparently boating was a life-long love.
Harry is buried at Alta Mesa Memorial Park in Palo Alto.
(Information from public records. Contact Art Brown for corrections)