In Memory
Brenda Ballard (Stevenson; Demps)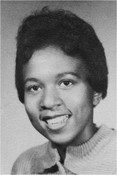 Our friend and classmate Brenda Joyce Ballard was born on May 3, 1941 in Knoxville, Tennessee to Moses Ballard and Willie Ruth Waddell Ballard.
Brenda married first Ernest Stevenson on August 7, 1960 in Santa Clara County, and they had one child. This might be the Ernie Stevenson that played football for Cubberley. If so, he was born in 1939 in Tulare County, passed in 1999, and was buried or cremated in Madera County.
Brenda married second Cooper D. Demps on December 30, 1963 in Santa Clara County, and they had one son, according to the Demps Family Tree on ancestry.com. They divorced in 1976.
Brenda passed away on February 3, 1987 in Redwood City, age 45 years 9 months. She is buried in Mission City Memorial Park, Santa Clara, CA. Her father died in 1992 and her mother in 2012.
(Information from public records. Send corrections to Art Brown.)