In Memory
Sharon Gaul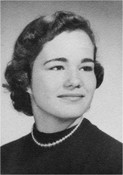 Jim,
We received your invitation to the Cubberley
Class Reunion
. I regret to tell you that my wife, Sharon Gaul Birks, passed away from cancer in December 2006. She would have really enjoyed the reunion. Sharon was in Corporate Communications for
National Semiconductor
and was responsible for their logo and policy changes during that era prior to starting her own business,
Left Coast
Ventures, Inc. Left Coast Ventures, Inc., was involved in high tech electronics, importing and exporting equipment throughout the world. I closed that business shortly after her death. After spending 35 years in the Bay Area, we moved to Sonora in 2000.
Regards,
Tom Birks