In Memory
Doug Purdy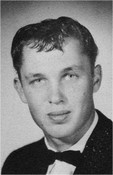 FROM THE YEARBOOK:
"Doug" is known about Cubberley for his fine ability in art - enjoys making jewelry, posters and cartoons - plans to work with metal or ceramics after graduation, either with his family or on his own.
DOUG DID AS HE PLANNED.
It is with heavy heart that I inform you that Douglas died on 10/18.2008. He was 68 years of age. If you wish to receive a copy of the Obituary I will send you one upon receipt of your address.
Douglas was multi-talented creating sculptures that were shipped all over the world. He also designed houses in CA and OR. He was an atheist but loved nature and the environment. He was able to capture the essence of birds and animals in a most unique way in his sculpture.
He is sadly missed.
Sincerely,