In Memory
Nanci Schroder (Thompson)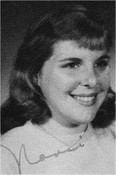 Born in Palo Alto California, on February 7, 1942, Nancy Schroder Thompson's journey ended on July 21, 2011 in Southport, Connecticut. Setting up homes across America, Nancy would marvel at the Arizona desert's spare beauty as well as the bucolic beauty of the Connecticut shoreline.
It is difficult to think of Nancy without picturing her vibrant gardens, products of her innate ability to nurture and bring beauty to the world. Nancy's open heart was always ready to accept and love, be it the parade of her sons' friends to the many animals that inhabited her home, including various dogs and cats, and inquisitive raccoon, and four suspicious infant skinks.
She will also be remembered for her intelligence, wit, love of literature and commitment to education, qualities she passed on to her children who in turn passed on to their own.
Nancy was pre-deceased by her husband , Crawford Thompson and her daughter-in-law, Nancy Barton. She is survived by her siblings, Jim Schroder (Cheryl) of Sunnyvale, California and Cathy Winn (Jack) of Sun City, Arizona, her three adored sons, Peter (Helen), Jeff and Jamie Barton, her much loved grandchildren Meghan, Hally, Carlin and Connor, nieces and nephew Amy. Sara, Kira and Brandon, as well as many friends who enjoyed her generous nature and great sense of humor.
She was a woman in love with life's myriad beauties and joys and left it far too early. She will be greatly missed. In lieu of flowers donations can be made to the Alzheimer's Association- alz.org